KNC120 Series KLUK Customized Folding Sliding Door System Aluminum Double Glass Bifold Doors
KLUK's Bidfold Doors:
Our bifold aluminium doors are more than just stylish – they are manufactured to last and provide durable performance.
Our Boutique products have been designed for a semi-commercial look with solid, quality frames, smooth folding operation and extensive design possibilities. Their minimalist design aesthetic create a seamless statement in a variety of spaces, while the folding functionality opens up the possibilities to perfectly complement alfresco style dining or entertaining areas.
Our aluminium bifold sliding doors also have the option of double glazing and low e. glazing. These options can help to keep your room warm in winter and cool in summer, making for effective energy saving and climate control.
We supply bifold doors across North America, South America, Asia, Australia, Africa. If you'd like to visit one of our showrooms, get in touch to book an appointment today
Tempered Glasses

Tempered glasses are thermally processed glasses with higher mechanical and thermal durability. The glass is heated reaching temperatures of up to 600° C and then is rapidly (full tempering) or slowly (thermal amplification) cooled. In both cases, a strictly controlled cautious cooling speed is required.
This processes submits the glass surface under a permanent compression force, providing the glass with special properties, as for example resistance to mechanical or thermal shocks, i.e. up to 5 times higher (thermally tempered) or up to 2 times (thermally amplified) compared to conventional glasses. This process protects the glass from shattering due to high temperature differences taking place on its surface (e.g. because of ever-changing shading).
This is particularly important for glasses exposed to intense sun radiation with high energy absorption on an everyday basis. In addition, in case of breakage, tempered glasses break into small, round glass particles, eliminating the risk of dangerous sharp shards which otherwise would be a serious danger in the case of conventional glasses.
Hardwares - Handles:

The handles are the only single point of touch with the aluminium system. The handle gives life to the rest of the system Accessories, which provide its functionality. Thus, the handle is a very important part of the system. The main handle characteristics are:
Their types. According to the application, handles are divided in window, door and lift&slide types. Moreover, the above types can be divided into sub-groups with discrete characteristics.
The safety they provide. The handles can enhance the system safety by 2 different ways. The first is for the handle to be fitted with a key, by which not only the internal use of the system can be controlled but also enhances the anti-burglary protection. The second way is the anti-burglar Secustic mechanism, which does not allow outside operation of the hadnle. Alumil range contains both solutions.
Their aesthetics. Alumil uses mostly Alumil designed handles, which complete every Alumil system. The handles are available in all popular colors in powder coating and anodising. Also, special colours are available upon request.
Their certifications against durability and anticorrosion. Alumil range handles are fully certified at all levels.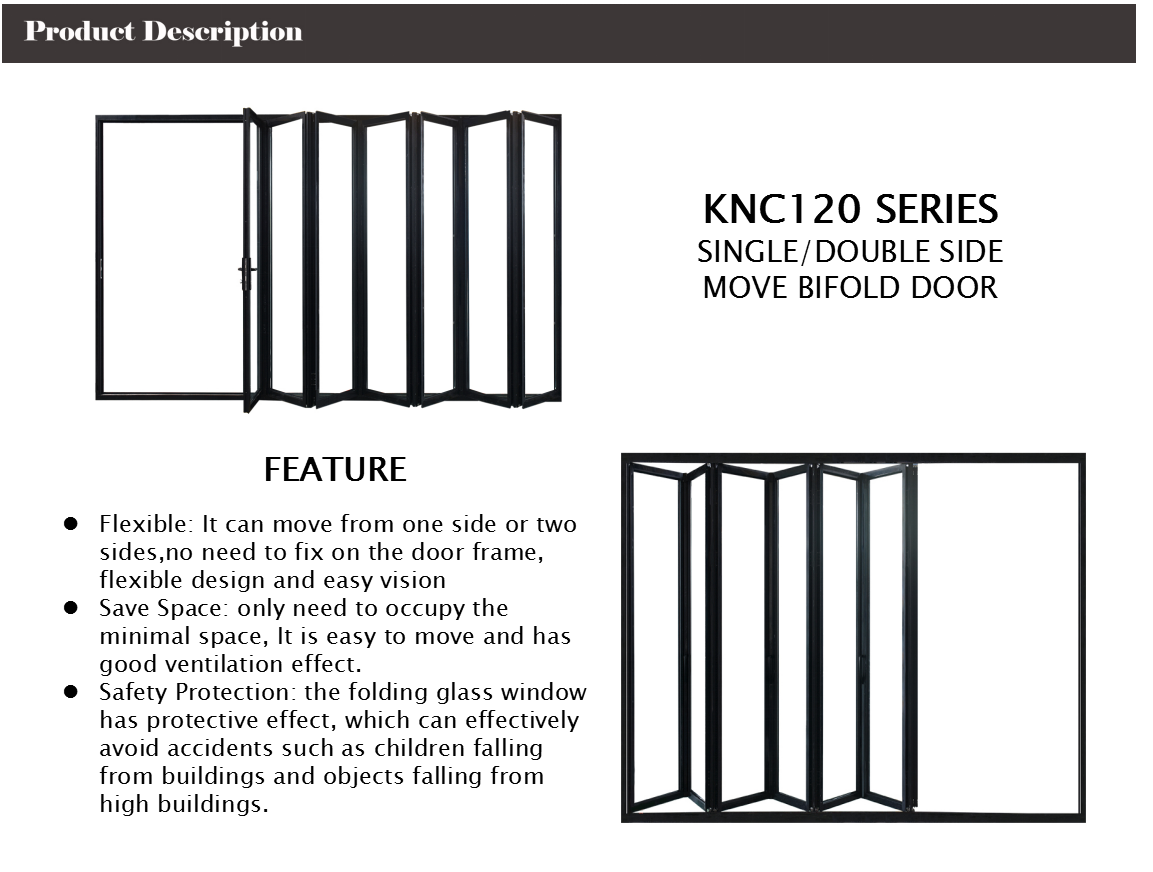 Name/Model:

Double Tempered Glass Black Aluminum Bifold Doors

Profiles:

6063-T5 high quality aluminium

extrusion

profiles

Glass Choice:

Low-e; relective;Frosted; tinted; clear tempered glazing

Glass Choice:

5mm; 6mm,12mm single tempered glazing

5+12A+5mm; 5+27A+5mm; 6+12A+6mm double glass

5+6A+5+6A+5mm triple glass

5+0.76+5mm;6+2.28+6mm Laminated

other glass type you need

Color:

matt black;white;ultra silver;clear anodized;nature clean aluminium

Any color available

Customized (matt black;white;ultra silver;clear anodized;nature clean aluminium)

white or other color

Hardware :

China Top brand: MACO

Frame

Surface

F

inish:

Powder coated meet AS 3715; Electrophoresis; flucarbon; Anodizing;

Flyscreen:

Stainless steel security mesh; Aluminium security mesh; Fiberglass flys

Guarantee :

Years

Security:

C

rimsafe mesh ;

G

rille available

Application:

Building(office/hotel/apartment)